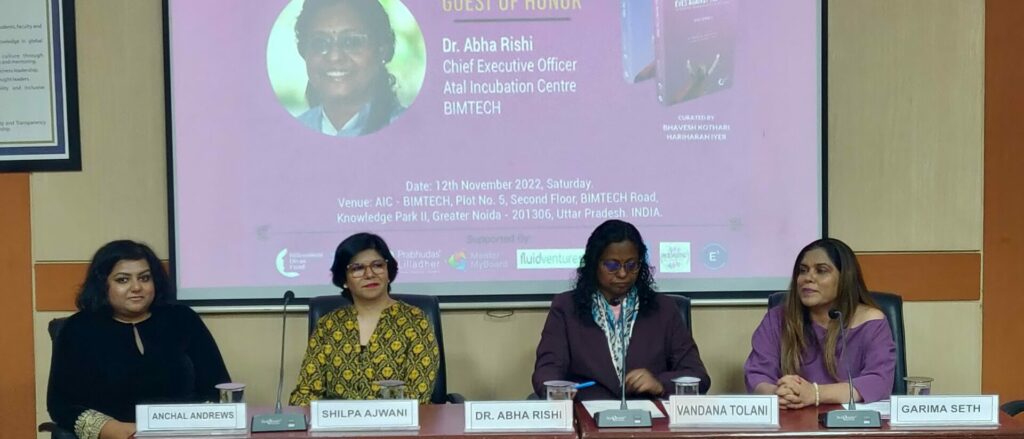 Book Launch: 'Eves Against The Odds' - Volume I & II organized by Billennium Divas Pvt. Ltd.
AIC-BIMTECH, a platform creating social and economic impact through entrepreneurship and has been encouraging entrepreneurship in students hereby providing a strong  foundation and network to venture into the ecosystem of innovation in association with Billennium Divas, a leading global community of women entrepreneurs, along with BSE IPF, a platform for creating capital markets related awareness and educating Indian investor community on the various aspects of  investing in the securities market, Prabhudas Lilladher, a leading stock broking company and India's leading  financial services provider based in Mumbai and MentorMyBoard, a platform for creating ethical boards and  visionary director & Fluid Ventures, a sebi registered (AIF  CAT-1 VC) early stage, direct to consumer focused venture capital fund that invests in visionary entrepreneurs that are creating digital first, innovative and world-class consumer brand and driving positive change in the  consumer behavior organized a book showcase event here at the AIC-BIMTECH, Greater Noida on Saturday,  November 12, 2022 as a part of their Multicity Book launch initiative to promote Women Entrepreneurship.
The event showcased Eves Against The Odds – 25 Inspiring Women Entrepreneurs Stories – Volume I & II. The  book series has been Co-authored by Bhavesh Kothari and Hariharan Iyer. Bhavesh Kothari is leading startup  mentor and Co-Founder and Director of Billennium Divas and Hariharan Iyer is an acclaimed motivational speaker and corporate trainer and Founder of Hariharan's School Of Success Education (HSSE).  
Guest of Honor of the event was Dr. Abha Rishi, CEO – Atal Incubation Centre – BIMTECH and Mr. Amit Singal,  Founder- Fluid Ventures along with our featured eves and entrepreneurs attended the launch.  Along with the Book launch programme, a panel discussion with our CEO Dr. Abha Rishi, Atal Incubation Centre – BIMTECH, Ms. Shilpa Ajwani, Founder & CEO – Unomantra, Ms. Anchal Andrews, Shareholder – Oneclean  Concierge Private Limited and Ms. Vandana Tolani, Founder – Convanto shared details of their journey,  perceptions and perspective on Women in Entrepreneurship, and also in their talks, highlighted how women are  breaking barriers in a male dominated world and the immense leadership and entrepreneurial potential they  carry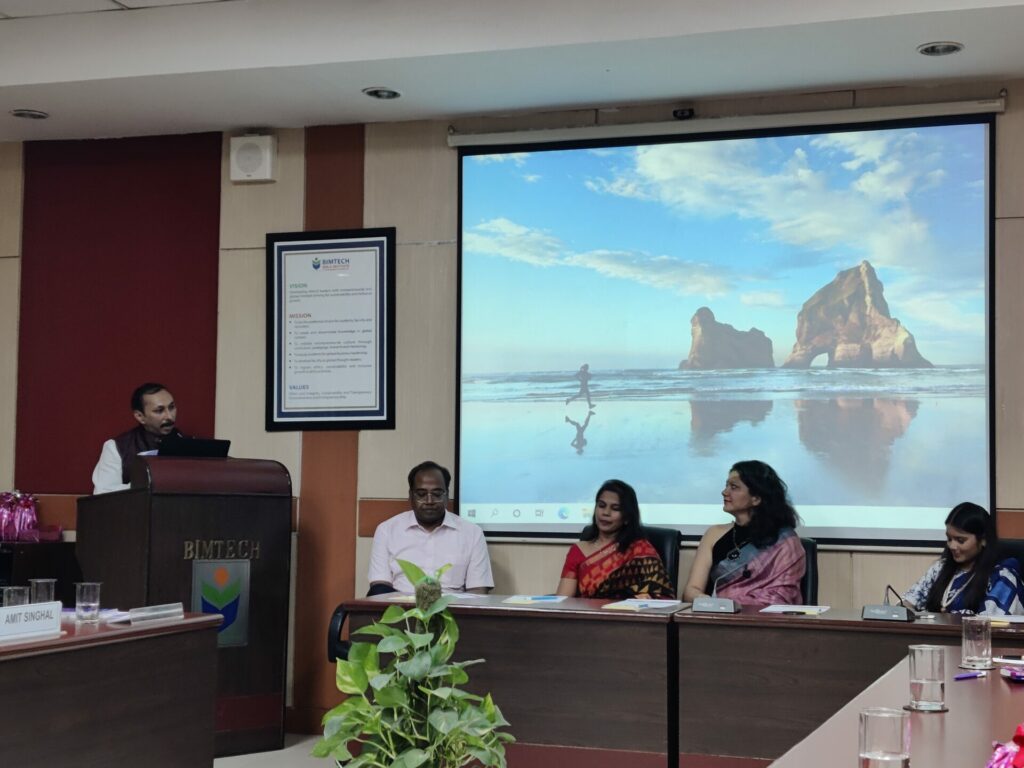 This is going to be a game changer in the coming years where women entrepreneurs will lead from front. A presentation by Mr. Anmol Chaturvedi, Manager-Atal Incubation Centre – BIMTECH highlighted the array of programs  for startups, to innovate, and how it has been instrumental in nurturing startups into industry players thereby  bringing out the best in business through its sector-agnostic incubation center. 
The event also saw another interesting panel titled 'A journey to capital raise'  powered by fluid venture with  esteemed panelist such as Mr. Amit Singal, Founder- Fluid Ventures, Ms. Neha Shah, Co-Founder – MentorMyBoard Ms. Chandni Khan, Founder – Voice of Slum, Ms. Ajuka Mahajan, Founder – Book My Jet and  was moderated by Mr. Bhavesh Kothari, Co-Founder and Director of Billennium Divas Pvt. Ltd. 
To further strengthening the startup ecosystem and nurture more women entrepreneurs through active  collaboration and exchange of knowledge and expertise, both AIC-BIMTECH & Billennium Divas Pvt. Ltd entered  into signing a strategic Memorandum of Understanding (MoU) thereby paving way for innovation, collaboration  and support through active mentoring, guidance and hand-holding startups & entrepreneurs.  
The book launch was attended by a large audience from various walks of life, and they all appreciated the idea  behind the book series. The event was also made special by the attendance of few of the eves featured in the  two volumes of Eves Against The Odds who were also a part of the Book Unveiling ceremony. 
The book launch also highlighted an impactful initiative, "Eves Entrepreneurship Excellence Academy" (ECube  Academy or E3Academy), a unique program designed to enable women who are either students or corporate  executives or are on sabbatical to excel as powerful entrepreneurs through training, coaching, and mentoring. 
The book series contains the journey, success stories, and  the struggle of 25 women entrepreneurs sailing against the winds, fighting against all odds in building their enterprises. Visit at www.evesagainsttheodds.com . The books are available on Amazon, Flipkart,  NotionPress and other leading ecommerce platforms in both paperback as well as e-version. 
We would like to thank our esteemed partners Billennium Divas, dignitaries, participants, and our entire AIC-BIMTECH team for their wholehearted support in making this book launch a phenomenal success. 
For more information on this Multicity Book Launch and other initiatives on women entrepreneurship, kindly  visit https://www.billenniumdivas.fund or contact the organizers on billenniumdivas@gmail.com / Mr. Bhavesh  Kothari (Director) +919820436076.