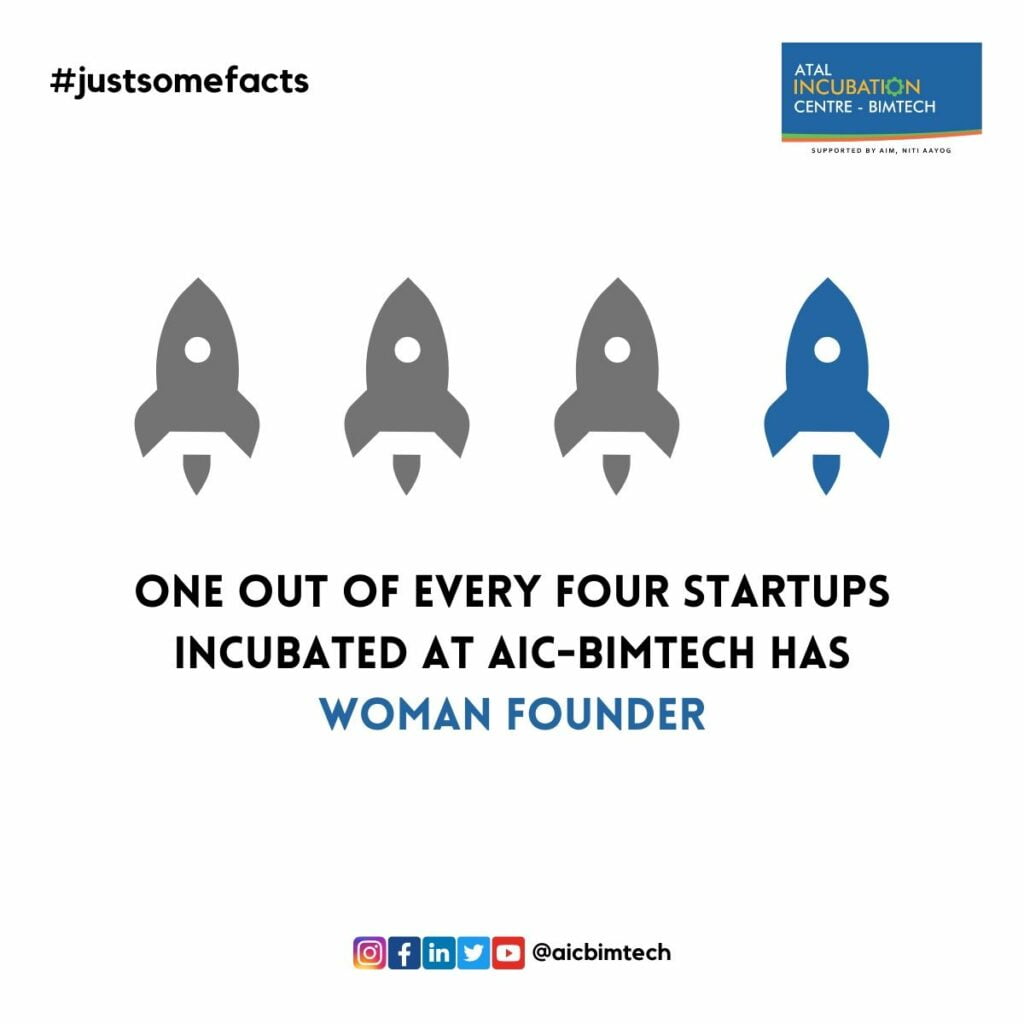 Women Entrepreneur at AIC-BIMTECH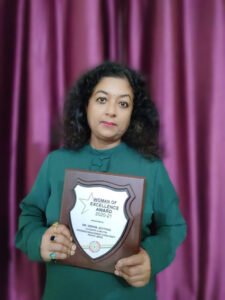 Entrepreneurship is about innovation, curiosity, hard work, and a willingness to take risks and overcome challenges. We recently spoke with three incredible Women Entrepreneurs from AIC-BIMTECH, who shared their perspectives on entrepreneurship and the challenges of being a woman entrepreneur. They are making a difference through entrepreneurship, such as developing a sustainable agriculture ecosystem and using homegrown Al technology to aid in the diagnosis of respiratory abnormalities. Here's what our three incredible female founders had to say.
Q1. Give us a brief about yourself and your startup.
Saumya Shukla – DECTROCEL HEALTHCARE AND RESEARCH PVT: Dectrocel Healthcare and Research Pvt Ltd is a health-tech startup based in Uttar Pradesh that creates scalable diagnostic solutions for the next 7 billion people. Dectrocel was founded in August 2020 to address issues that affect a large number of people. India has 1.3 billion people, and one out of every five has a chronic disease. Most of these diseases have no noticeable symptoms at first, but they disproportionately affect the poor, making it critical to diagnose these diseases during the preventive healthcare stage and enable early treatment. As a result, we looked into how technology could be used to enable early detection, increase access to specialized healthcare, reduce misdiagnosis, and address unaffordability. We created comprehensive AI Medical Imaging Solutions to revolutionize the early detection of Respiratory Abnormalities and Genetic Disorders in children. Incubated at MedTech CoE, STPI & STPINEXT SGPGI Hospital, IIT Mandi Catalyst, & AIC-BIMTECH, we are attempting to truly use technology to impact the lives of patients with R&D partners such as the Google Brain Team, USA & Apollo Hospitals India.
Ekta Kishore, MAPDEK INDIA PRIVATE LIMITED: I am currently working on Krishi Sambandh, a demand-based supply system that aims to create farming clusters and source agricultural produce directly from farmlands to pre-defined markets. We are establishing our first farming cluster in the central region of Uttar Pradesh and expanding our consumer base. We want to combine sustainable/regenerative agriculture practices with market forces so that sustainability becomes the industry's primary driver. I've spent a lot of time as a chemical engineer working with specialty chemicals and polymers for tire applications. My work was motivated by circular economy principles and focused on developing low-carbon technologies. After nearly a decade of doing so, I went to business school to broaden my knowledge and make a difference in the sector I have always wanted to work in – agriculture.
Dr. Pallavi Rao Chaturvedi – GET SET PARENT PRIVATE LIMITED: I am an engineer by training and have an MBA from the S P Jain Institute of Management and Research (SPJIMR). I also hold a Ph.D. in Women Entrepreneurship. I have over 16 years of experience working in marketing, brand management, and early childhood education. And now I'm an entrepreneur with my own company, GET SET PARENT, which has a social media arm as well as an E-Commerce Portal.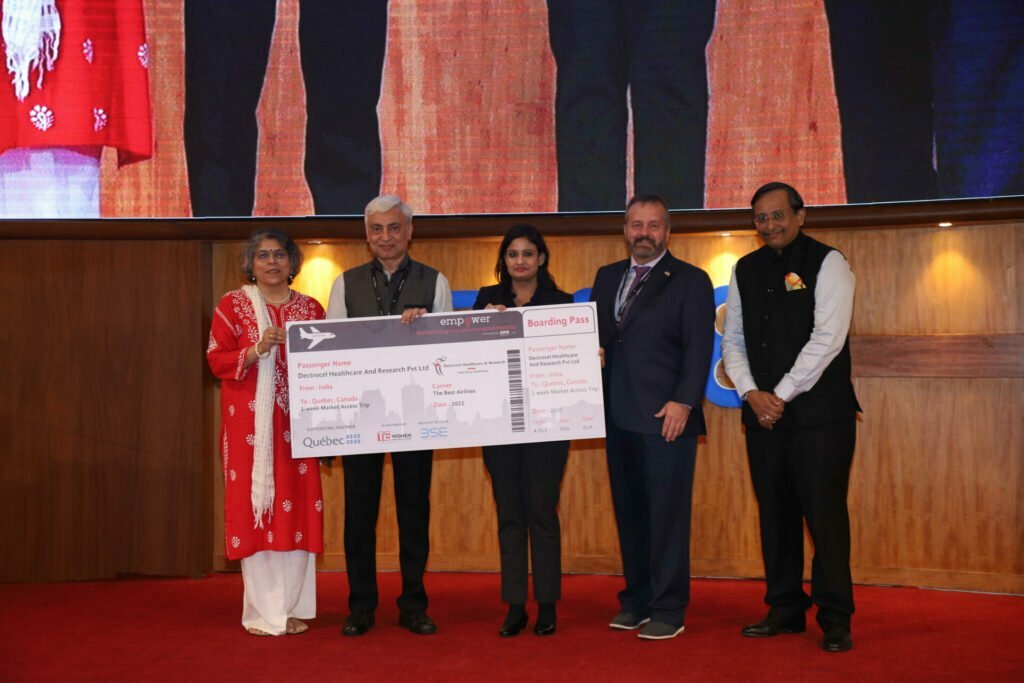 Q2: Why did you decide to become an entrepreneur?
Saumya: Throughout my childhood, I witnessed parents working across government hospitals to induce specialized level healthcare in the country's health systems. I saw firsthand how privileged I was to have access to specialized level healthcare and how significantly early detection could change health outcomes. During my Doctorate, I embarked on a mission with my technical founders, who possess phenomenal technical capabilities in medicine and data science, to enable early detection, reduce misdiagnosis, and address inaccessibility and unaffordability of healthcare through our entrepreneurial venture.
Ekta: Having worked across three continents, lived in five countries, and collaborated with people from over 30 countries during my career, I have come to realize that the PURPOSE is what connects people, organizations, communities, and nations. I am happy and content that I have found my calling in returning to my roots and ensuring that my academic training is put to good use in assisting our farmers to maximize their potential. It is quintessential that our farmers continue to nurture and care for their farmlands and devote themselves to farming to ensure a healthy and balanced economy and society. For our farmers to do this, there is a huge opportunity to build systems in which they can focus on farming while making other decisions such as marketing products and procuring all necessary supplies swiftly. Moreover, the entire market must encourage farmers to practice regenerative agriculture and ensure the sustainability of their farmlands. When my husband and I were discovering all the above, COVID hit, and our farmers faced an acute situation of market linkage. Produce prices in the market began to rise; however, back on the farms, the price per quintal fell. At the same time, we lost our sharecropper, who was the only earner in his family, to COVID. Motivated by the situation around us, we decided that day to take the plunge and develop systems that our community desperately needed.
Dr. Pallavi: I believe entrepreneurship strikes you when you feel compelled to tell your story or launch your service or product into the market because you believe it serves a certain purpose and you have faith in what you're doing. And I believe that's what happened to me. After about 15 years of working across some of India's top MNCs in marketing and some of the top education organizations, I felt it was time for what I was so passionate about committed towards, and that's how I went ahead and launched my company, which has diversified arms. And I believe that passion drives entrepreneurship, and you can't hold it in once you've decided you want to do something.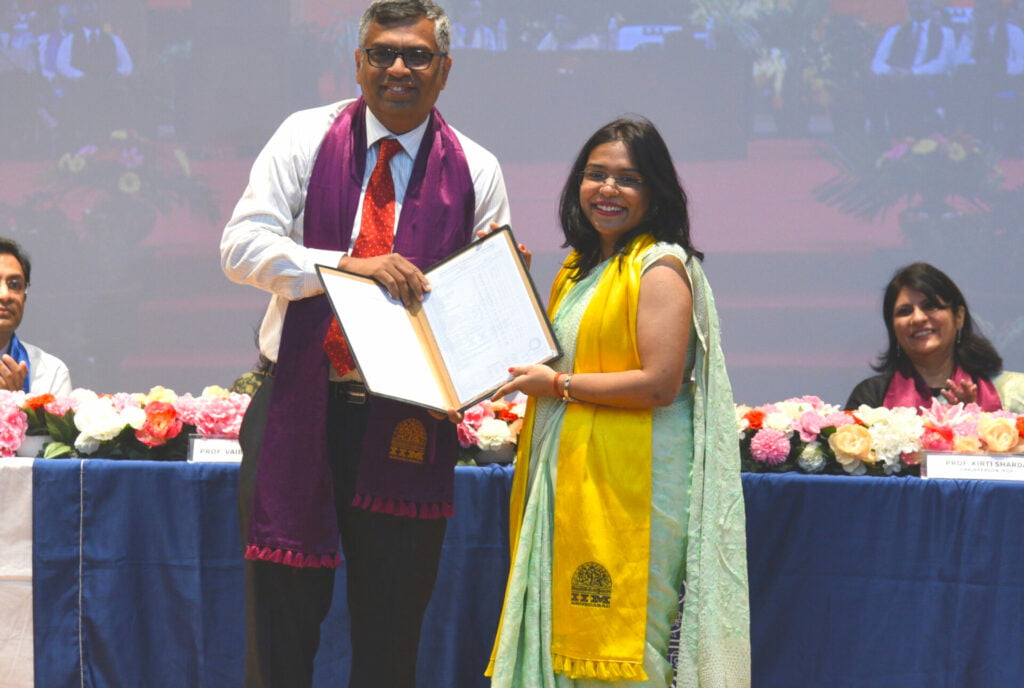 Q3: How does your startup help people out there?
Saumya: We develop comprehensive AI medical solutions that aid in the early detection of respiratory abnormalities and genetic disorders in children, moving the needle from hit-and-run trials to evidence-based medicine. Having said that, we address the pain points of inaccessibility to specialized level doctors, breaking the economic barrier by providing early detection at a low cost, reducing misdiagnosis, and promising better health outcomes.
Ekta: We build a buyer base in cities and study their demand. Once we have demand forecasts, we tie them to farming clusters that we develop in rural pockets of the country. Through the farming cluster, our farmers synchronize their crop cycles as per our demand and procure all advice from us to conduct the farming. Furthermore, demand cycles are designed to encourage regenerative/sustainable farming, and farmers have an assured market of sale through our locally available procurement points.
Dr. Pallavi: For the past several years, I have worked in the field of early childhood education. And I run a preschool chain called the brainy best preschools, a social media platform with over 500,000 followers, Get Set Parent, and now the brainy best store, an e-commerce portal. It is aimed at parents with children aged 0 to 6 years old, and we develop products and learning solutions to assist children in various learning aspects during their early years. And we help both parents in their parenting journey as well as young children in their learning journeys. Because this is a period of rapid brain development, and the learning forged during these years has a long-term impact.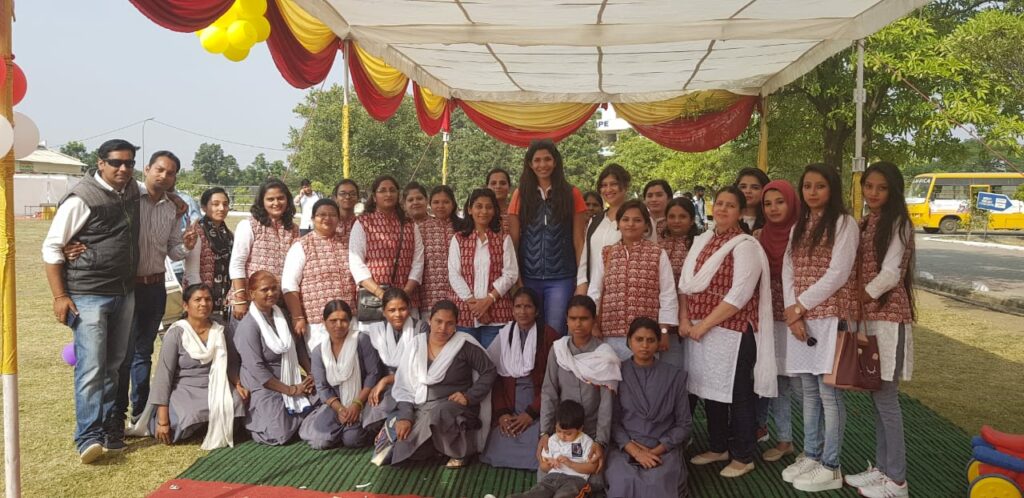 Q4: How would you define entrepreneurship?
Saumya: Entrepreneurship is the act of creating a business while building and scaling it to generate a profit. However, as a basic definition of entrepreneurship, that one is somewhat limiting. The more modern entrepreneurship definition is also about transforming the world by solving big problems. Such as effecting social change or developing an innovative product that challenges the status quo of how we live our daily lives. Entrepreneurship is what people do to take their career and dreams into their hands and lead it in the direction they want. Entrepreneurs are the ones who take the first steps toward making the world a better place for everyone – including themselves.
Ekta: Entrepreneurship is the art of ideating and executing an idea to life. It ensures the development of a system that can be sustained and run on auto-pilot mode once the feasibility is proven and scaled. Above all, it is a mindset that can identify problems and develop solutions that can self-sustain in the long run.

Dr. Pallavi: Entrepreneurship, to me, is a story that can't be held in any longer, and you have an absolute conviction in your solution in your offering to the market. And no matter what anyone says, you can't help but test and launch it because of your inner conviction and passion. And I believe that is the essence of entrepreneurship; success, money, and fame may or may not occur, but that is part two of the story. Entrepreneurship is about being driven to make a difference in the world by solving a problem.
Q5: Why does India need more women entrepreneurs?
Saumya: India's growth story has left behind a key demographic: women. Despite improvements in social parameters, India's growth does not translate into economic inclusion and development for women. Women's labor-force participation has stagnated and is expected to fall further due to labor trends, technological disruption, and constraining social barriers. Over the next decade, India will have the world's largest working-age population, with over 1 billion people. This demographic dividend, when combined with an increasingly educated population, has the potential to transform India's economic and social development. Unlocking female entrepreneurship in India is a complex endeavor, but it offers an unprecedented opportunity to change the economic and social trajectory of India and its women for generations to come.
Ekta: From Rani Laxmi Bai to the late Mrs. Indira Gandhi, India has a long history of strong women leading our communities and nations. Mrs. Falguni Nayyar, the founder of Nykaa, decided to pursue entrepreneurship after reaching the age of 50. Arundhati Bhattacharya, who previously worked for SBI, is now at the helm of SoftBank. Women have traditionally excelled at household management and are natural leaders. They are born with the ability to make the best decisions for their family from a young age. With our social systems now aligning to equal participation in household tasks, the environment is more conducive to women stepping forward and pursuing leadership positions wherever they go. Thus, strong women leaders have existed in every field and continue to exist in increasing numbers. The twenty-first century is India's century. With our strong economic growth and demographic dividend working in our favor, a strong partnership of both men and women in every area will ensure that our country leads from the front and that every upcoming generation is motivated to reach only the top.

Dr. Pallavi: I believe that India requires more women in all fields, not just entrepreneurship. However, as an entrepreneur, I believe a woman is a great fit because women are naturally capable of multitasking, being creative, being very ethical, and being very sincere and hardworking. And I believe you need leaders and employers who demonstrate these values so that your entire employee base also resonates within the organization. When a woman becomes an entrepreneur, she learns how to manage herself between the home and the family, and the family learns how to manage her. And, you know, there is a natural tendency to bring work into the family and take family into work, which I believe works very well for women. So India needs female entrepreneurs who will go out there and make a difference, and regardless of how big or small the idea, company, or organisation is, it must be experimented and piloted.
Q6: What are the challenges for women entrepreneurs?
Saumya: The reason why women entrepreneurship needs to be highlighted as such is that women face an all-new additional set of challenges deep-rooted in patriarchy – social barriers, dual pressure of work, care work, lack of support, so on and so forth.
Ekta: I see a world full of possibilities and no obstacles. We are standing shoulder to shoulder with men both inside and outside of our organization. My work takes me to visit Mandis located in far-flung districts to farmer meetings organized in the lap of mother nature. I sit with Chairpersons and CEOs of organizations and negotiate daily rates with my transporter. I meet with my truckers to learn how timings can be coordinated and survey tractor operators in sugar mills to understand the time loss because many state-owned mills operate at significantly low plant utilization levels. When I was about to embark on this journey, my family and well-wishers expressed concern that this was not the ideal field for young women to pursue. However, I am elated that I chose it and dispelled the myth not only for them but also, to some extent, for myself. MY INDIA IS CHANGING, I can say with pride. I am not only accepted but also welcomed everywhere I go. You see, the only limit is the sky!

Dr. Pallavi: I believe that entrepreneurship is not for the faint of heart. However, I must say that it is easier today than it was previously because you have a lot of government schemes, startup funds, seed funds through various incubators, and a robust ecosystem of angel investors and VCs. I believe that both a man and a woman must, you know, really slug it out and prove the company's standing. And for women entrepreneurs, what becomes difficult is if women are a little introverted or used to working behind the scenes because as an entrepreneur, you need to be able to push yourself and really spearhead from the front. And that is a difference that I think women need to bring into themselves when they start, that and you need to be able to go out there and convince the world of your ideas and your products. It's not easy, and it takes some extra effort for some women who aren't used to this type of environment.
Q7: What have been your key learnings?
Saumya: I believe entrepreneurship has a steep learning curve. Some of my key takeaways include:- 1. Curiosity is a superpower, and it is critical to approach problems with an open mind. It is important to accept failure and pivot rather than give up. Essentially learning from your failures is paramount. 2. Keep your eyes peeled for new opportunities so that you are ready when one presents itself. You never know when you'll bump into Oprah! 3. Always believe in your own strengths and abilities, no matter what external expectations exist. 4. Finally, look for opportunities where you can make a positive difference in the world while also growing a profitable business.
Ekta: In my entrepreneurial journey thus far, three key lessons have emerged that are constantly influencing my decisions and how I function as I move forward: 
Integrity

: Every startup is founded on the conviction of its founding members, who believe in their idea and devote themselves to its execution. The founders face decisions every day where they expose themselves to the world of choices in front of them. These choices affect all stakeholders, such as investors, customers, employees, vendors, etc. As a result, the founders' conduct must be of the highest integrity in order to maintain the trust of all their stakeholders. 

Patience

: As each organization is unique, every startup is also a unique organization in the making. Since nothing is pre-defined, the team needs to work with utmost patience and agility simultaneously, constantly testing each of their hypotheses to check what works and what doesn't. Talent acquisition and retention are difficult tasks since everything involves people, a slew of interpersonal issues emerge early on. Thus, patience is the most important virtue that helps cruise through such times and ensures that every failed result, lost customer, and internal conflict is reverted or resolved to fall back on the path to success. 

Perseverance

: Starting a business is a long journey. You either succeed or fail based on your definition of success. Whatever that decision, one can be sure that the path to it will be physically, mentally, emotionally, and financially exhausting.   Thus, one must persevere and ensure the startup survives the strides.  We will all be chasing organisational metrics, and it will not always appear to work, but at the end of the decade, only your perseverance will be your driver to your purpose—whatever that is.

Dr. Pallavi: I'll share three key lessons I've learned as an entrepreneur. The first is that there is no perfect time to begin; if you have an idea that is roughly 70% complete, that is sufficient to pilot or test market your product. Because there is no such thing as a perfect time when it comes to marketing a perfect target audience or a perfect product, it will all be iterated over time, with constant improvements. And, in order to learn, you must continue to introduce small bursts of your product into the market at various stages. So that's the first lesson that doesn't wait for the ideal moment. Go ahead and start learning on the job. The second lesson is that you need a good team. You as the entrepreneur can be the driver, the energy, and the passion, but without great team members who share your vision and can translate it into reality, things won't fly. The third point is that success does not happen overnight, though there are stories in the market about unicorns or people who have made it big in four or five years. We need to work towards staying in power. You must be willing to work hard and stay in the market for an extended period of time. So, whatever changes are required in your organization and products, you must continue to tweak them. But I don't believe we can expect instant success. We must be patient. So those are my top three takeaways.
Q8: What's your best advice to women who want to start a business?
Saumya: Be confident in yourself and do not give up – Don't be scared to dream big. If your dreams don't scare you, then they aren't big enough.
Ekta: Your time is NOW! Give your desires the wings to fly, and you shall never be disappointed. From families to societies, everything is falling into place to help women achieve their goals at any stage of their lives. Put your faith in your ability to move forward and go for it. Only your conviction and determination can lead the way, so just get up and do it!
Dr. Pallavi: My advice to women entrepreneurs is to put themselves on priority. Women have a tendency to put themselves last. So it's like I'll focus on my husband's career, when my children are old enough, I will return to work. And all I want to say is that if you, as a woman, have a great idea and believe you can make a difference, you should go out there and start it; you can manage family, children, and everything else. It's not about being perfect; it's about experimenting and doing what you believe in. And I believe COVID has demonstrated that you can work from anywhere and coordinate from anywhere, and that technology is an excellent tool for you to kickstart your business. So, there is no other perfect time, now is the time to make a decision and move forward.