Startup20XSabha by AICBIMTECH : A Public Consultation meeting for Startup20 Engagement under Indi's G20 presidency
Atal Incubation Centre- BIMTECH has conducted Startup20XSabha, a public consultation meeting organized on  May 26th, 2023, at the behest of Atal Innovation Mission, NITI Aayog, to assemble inputs from stakeholders regarding formulating and implementing policies for startups and aimed at creating a singular framework among G20 countries.
Under the leadership of India's G20 presidency, Startup20 has been collaborating closely with diverse groups to establish a common ground for all G20 nations. The aim is to create a global narrative that supports startups while fostering synergies among startups, corporates, investors, innovation agencies, and other vital ecosystem stakeholders.
The first public draft of the Policy Communique` published by the Startup20 Engagement Group of the G20 have highlighted broad policy directives:
✅Global Policy Framework: Developing policies that foster a conducive environment for startups to thrive.

✅ Access to Overseas Markets and Talent: Strengthening alliances to enable startups to access international markets and tap into a diverse pool of talent.

✅ Cross-Border Funding: Facilitating seamless and simplified cross-border funding opportunities for startups.

✅ Inclusive Support: Ensuring under-represented communities, such as women and persons with disabilities, receive adequate support and opportunities.

✅ Sustainable Development Goals (SDGs): Aligning startup initiatives with the SDGs for a more sustainable and inclusive future.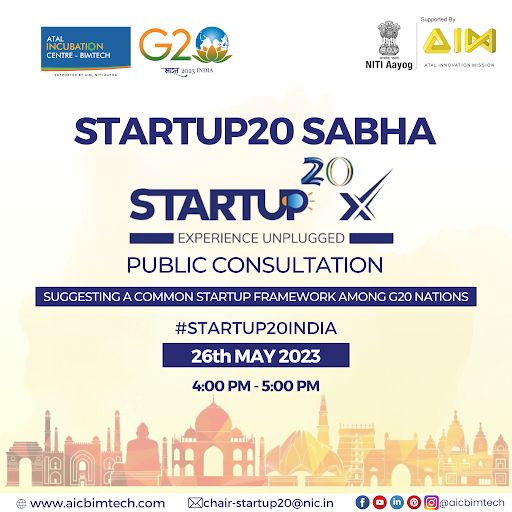 This session was organized against the backdrop of various meetings held under the Startup20 initiative with objectives such as agreeing on a common definition of startups to be used for all regulatory purposes in the G20 nations and four other such policy making decisions. The attendees came together to discuss and share insights on the Taskforce Policy Directives Draft, which lays the foundation for the future of startups.
The Startup20 Engagement Group was launched under India's presidency of the Group of Twenty. This is the first time such an exercise is taking place and will set the benchmark for the way the global startup ecosystem will be structured and evolve.
Know more: https://www.startup20india2023.org/