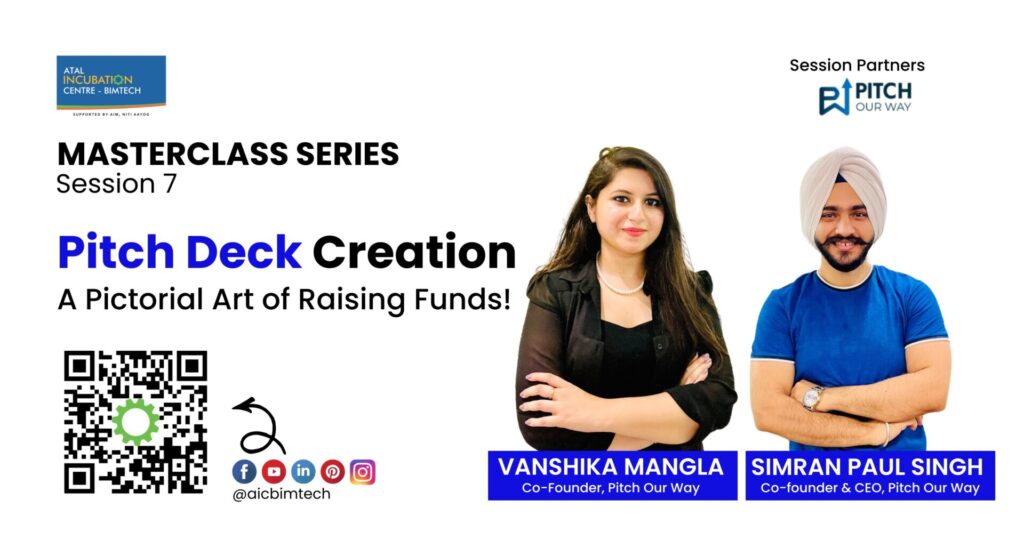 Pitch Deck Creation: A pictorial art of rasing Funds!
Wednesday, October 25th, 2023, The Masterclass Series Session 7, was led by Mr. Simran Paul Singh, Co-founder and CEO of PitchOurWay and Ms. Vanshika Mangla, Co-Founder & Head of Investments at Pitch Our Way, who shared an insights on preparing a pitch deck and getting ready for fundraising of a startup.
Simran initiated the session by explaining why a pitch deck is essential. He highlighted that it serves as the first point of contact with potential investors. Simran emphasized that a compelling, concise, and clear pitch deck with relevant information can capture an investor's attention and lead to further discussions.
Simran stressed the significance of meaningful content on each slide of the pitch deck. He emphasized that all information, market research, and data should be not only relevant but also insightful for investors. Even if investors decide not to invest, the pitch deck should leave a lasting impression for future reference.
The session also delved into the various stages of funding, from pre-seed to Series A. Ms. Vanshika discussed the importance of timing fundraising efforts strategically, considering investor interest in the company's runway and financial projections. Pre-planning for fundraising is crucial.
Mr. Simran advised providing quarterly updates to investors during the first round of funding, as it fosters trust and can lead to more significant funding in subsequent rounds. He stressed the importance of being transparent about achieving or failing to meet set milestones.
The session covered the do's and don'ts of presenting a pitch deck, including planning ahead and preparing for investment. Mr. Simran underscored the need for a strong founding team and the importance of viewing negative feedback from investors as an opportunity to improve for the next round of funding.
Ms. Vanshika emphasized never neglecting due diligence and ensuring that all financials and data shared with investors are accurate. Simran discussed crafting a compelling pitch by balancing content, data, and visuals. He divided the pitch deck into five parts, from selling the vision to a smooth ending.
Ms. Vanshika elaborated on mastering the essentials of an impactful pitch deck, including making it concise, focused, and data-driven. She encouraged pitching the startup's story with numbers in an exciting way to generate interest and confidence.
Simran stressed the importance of backing data with credible references and ensuring that the startup's storyline is backed by data. He highlighted the need to make the pitch deck accessible to both sector-specific and sector-agnostic investors.
Simran also emphasized the uniqueness of a startup's story and pitch deck, discouraging copying from existing companies. He encouraged founders to prepare for investor calls with confidence and patience.
The session concluded with the presentation of sample pitch decks from their portfolio companies, providing valuable insights into financial models and projections. The masterclass was a comprehensive guide for startups aiming to create an effective pitch deck and secure funding.
A compelling and concise pitch deck is the first mode of conversation with investors, and it should be clear and meaningful to capture their interest.
Timing fundraising efforts strategically, providing quarterly updates, and being transparent about achieving milestones are crucial for building investor confidence.
A strong founding team is essential, and negative feedback from investors should be viewed as an opportunity for improvement.
Due diligence is non-negotiable, and all financials and data shared with investors must be accurate.
Crafting a compelling pitch deck involves balancing content, data, and visuals, with a clear storyline that aligns with the company's unique vision.