♠  India's commitment to climate action is showcased through solid strategies, including green hydrogen, electric vehicles, and renewables.
♠  India faces challenges in coping with climate change, ranked low in the Environment Performance Index; MSMEs crucial for sustainability.
♠   Recycling-based innovations and green investment meet offer opportunities for businesses to tackle climate change and drive sustainable growth.
India has been increasing efforts to work towards focusing on the three Es—Environment, Economy, and Energy. The recent 2023 union budget allocation is a positive sign that the government is paying attention to the pressing issue of this sector. With an incremental change in the budget amounting to Rs. 3079.40 cr, it's clear that there is a growing focus on addressing climate change and promoting sustainability.
We've been hearing a lot about climate change and the challenges that come with it. And it's not just something global leaders are talking about; India has jumped on board as well. During the COP-26 (Conference of Parties), India presented a solid five-point strategy (Panchamrit of India's climate action) to tackle climate change in the United Nations Framework Convention on Climate Change (UNFCCC) held in Glasgow, United Kingdom. This includes targets like reaching 500 GW non-fossil energy capacity by 2030 and achieving the target of net zero emissions by 2070. From this, it's clear that India is serious about this issue, and is ready to invest in some exciting sectors like green hydrogen, electric vehicles, renewables, and more.
However, India still has some groundwork to do. According to the Environment Performance Index (EPI) 2022, our country ranked pretty low when it comes to coping with climate change, environmental health, and the vitality of the ecosystem. And if that wasn't enough, we're also the third-largest emitter of greenhouse gases globally, right after China and the USA. A wake-up call, right?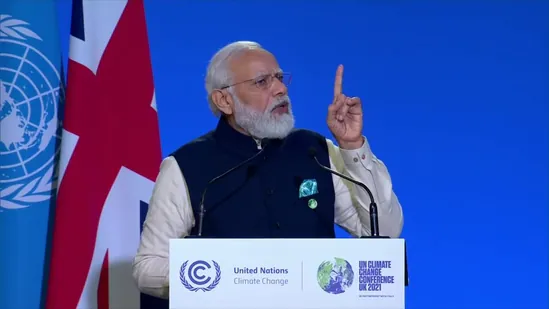 So, what's the solution? We need a solid policy framework that supports the growth of greener ways of doing business. The focus needs to be on turning waste into wealth, such as India's construction of 703 km of highways using plastic waste. Global competitions with attractive prizes are popping up, enticing businesses to come up with even more innovative solutions. For instance, at the global level, we have agri-plastics challenges that aim to reduce marine plastics in Sub-Saharan African countries. And let's not forget about the "Namami Gange" project in India, which offers a vast scope for sustainable businesses.
While we've celebrated various Global Investment Meets (GIMs) across different states in India, it's time to shift our focus to the global stage. 'Green Investment Meets', will ease the investments in various Eco-startups such as renewable energy, green tech, and waste management. Additionally, facilitate collaborations among stakeholders, allowing for the exchange of knowledge & expertise. The potential for growth and innovation is immense, and we're just scratching the surface!
There have been increasing efforts in India towards the significant strategic marker of generating five billion units of green hydrogen. It's an ambitious goal that holds immense potential for our country's economic development. And guess what? Investments have already started pouring in to make this dream a reality. Larsen & Toubro Ltd. (L&T) set the ball rolling by establishing a green hydrogen plant in Gujarat last year. Not to be left behind, industry giants like Reliance and Indian oil corporations are also stepping into the market. But here's the exciting part—there's ample room for MSMEs to flourish too!
It's not just about green hydrogen; recycling-based innovations are making their mark as well. The Micro, Small, and Medium Enterprises are the key to combating climate change on the local level & driving eco-friendly solutions. This can be done by encouraging small businesses that are actively addressing climatic issues by producing energy-efficient appliances, sustainable packaging materials, renewable energy systems, eco-friendly construction materials, and waste reduction solutions.
Currently, there are already around 1600 startups in the green technology sector. That's impressive, no doubt, but considering the magnitude of the climate change challenges we face, we need to do more. We must encourage the development of even more innovative technologies to tackle climate change head-on and improve India's ranking on the Environment Performance Index (EPI).
To reduce carbon footprints and foster a greener future, it's crucial to link MSMEs with the development of green products. Doing so can lead to significant progress in building a viable future. By fostering integrated growth in the pillars of environment, economy, and energy, India can position itself as a global leader in sustainability. A green future awaits India, and startups have the tremendous potential to be a powerful force for positive change in this regard.