MasterClass Webinar Series by AIC-BIMTECH 1 : Intellectual property rights & IP Management for Startups
Atal Incubation Centre-BIMTECH and IP Samadhan collaborated to present an exclusive virtual session on Intellectual Property Rights(IPR) and IP Management for Startups. The event was held on April 26th, 2023, on World  IPR Day, and was attended by numerous stakeholders from industry, academia, and the startup ecosystem to learn about effective IP management strategies.
In today's era of entrepreneurship, with a growing number of startups, it has become increasingly important to preserve ideas and intellectual property. As protecting ideas and innovation has become a critical aspect of doing business, this event was designed to provide startups with deep insights into safeguarding their valuable innovations and creations.
The session was led by a distinguished speaker, Mr. Saurabh Trivedi, Founder of IP Samadhan, who has over a decade of corporate experience and expertise in Intellectual Property Rights (IPR) and management. He emphasized the importance of protecting intellectual property and how it can help startups gain a competitive edge in their industry. The speaker covered various types of IPR, including patents, trademarks, copyrights, and trade secrets, and explained how each one can benefit startups in different ways. More than 100 startups joined in live to attend the session. 
"Intellectual Property Rights (IPR) is one of the key elements that differentiate a brand and create a barrier for other competitors that enables the company to stand out in the market," said Mr. Tiwari in the virtual session.
This virtual event was a resounding success, providing attendees with valuable knowledge that will help them gain a competitive edge in their industry.
A few session Highlights
»Protect your ideas: Startups often have innovative ideas that are unique and valuable. By obtaining patents or trade secrets protection, startups can safeguard their intellectual property and prevent competitors from stealing their ideas.
»Establish your brand identity: Trademarks are a crucial aspect of intellectual property for startups. By registering a trademark for their name, logo, or product, startups can establish a unique brand identity that sets them apart from competitors and builds customer recognition and loyalty.
»Attract investors and partners: Intellectual property protection can be a valuable asset for startups seeking funding or partnerships. Investors and partners are often more willing to work with startups that have established intellectual property rights, as it indicates a commitment to innovation and a competitive advantage in the marketplace.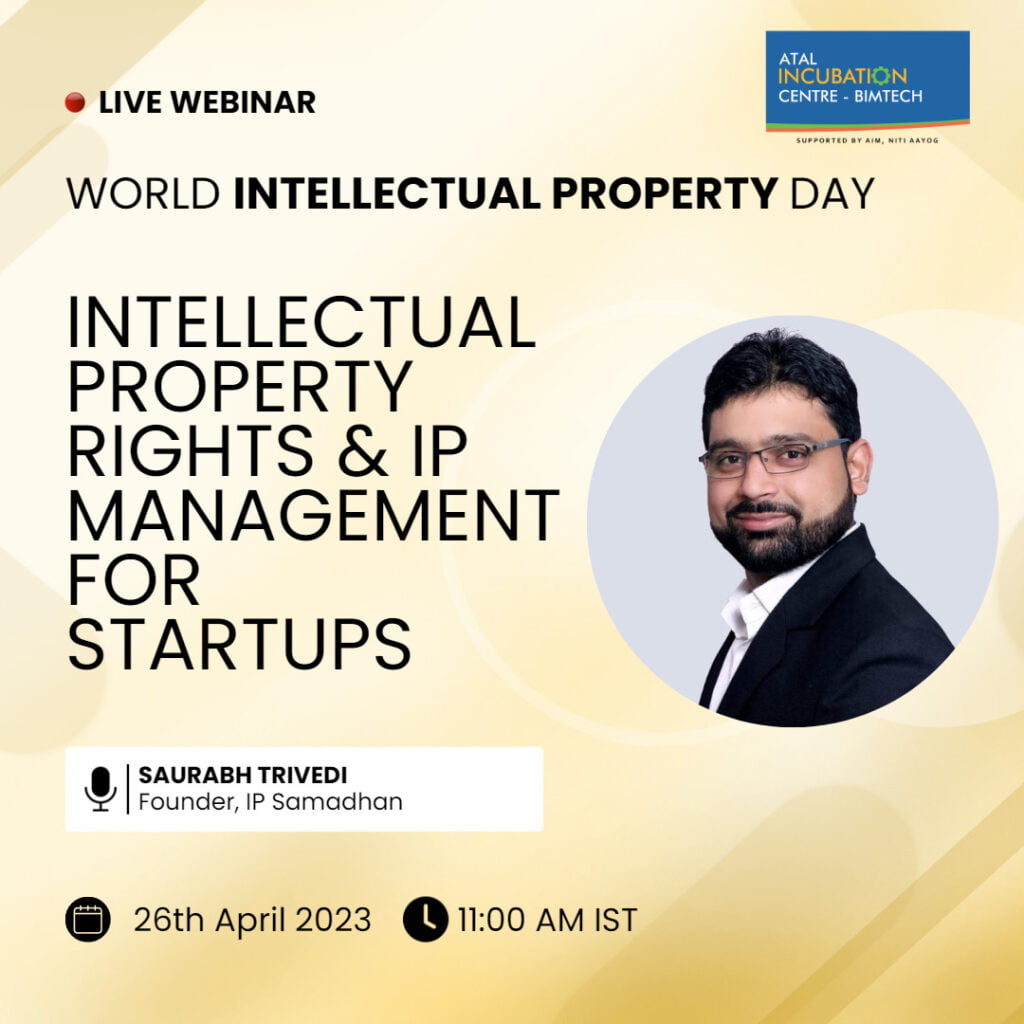 »Monetize your intellectual property: Intellectual property rights can also be a source of revenue for startups. By licensing or selling their patents, trademarks, or copyrights, startups can generate income and strengthen their position in the marketplace.
»Stay ahead of the competition: In today's fast-paced business world, startups need to be innovative and nimble in order to succeed. By protecting their intellectual property, startups can stay ahead of the competition, attract and retain top talent, and create a sustainable competitive advantage.
Remember that intellectual property protection is a complex and constantly evolving field, so it's important for startups to work with experienced IP attorneys and consultants to develop a comprehensive IP strategy that meets their specific needs and goals.