AIC-BIMTECH's Empowering Faculty Mentors Workshop Fuels Entrepreneurship & Incubation in India's Campuses
AIC-BIMTECH recently hosted a transformative "Training of Trainers Workshop on Entrepreneurship and Incubation" on October 6th and 7th, 2023. The workshop, conducted virtually, witnessed the active participation of 34 faculty mentors representing 21 educational institutions from across India. The common objective was to establish a solid foundation in understanding entrepreneurship and fostering an innovation culture within campuses.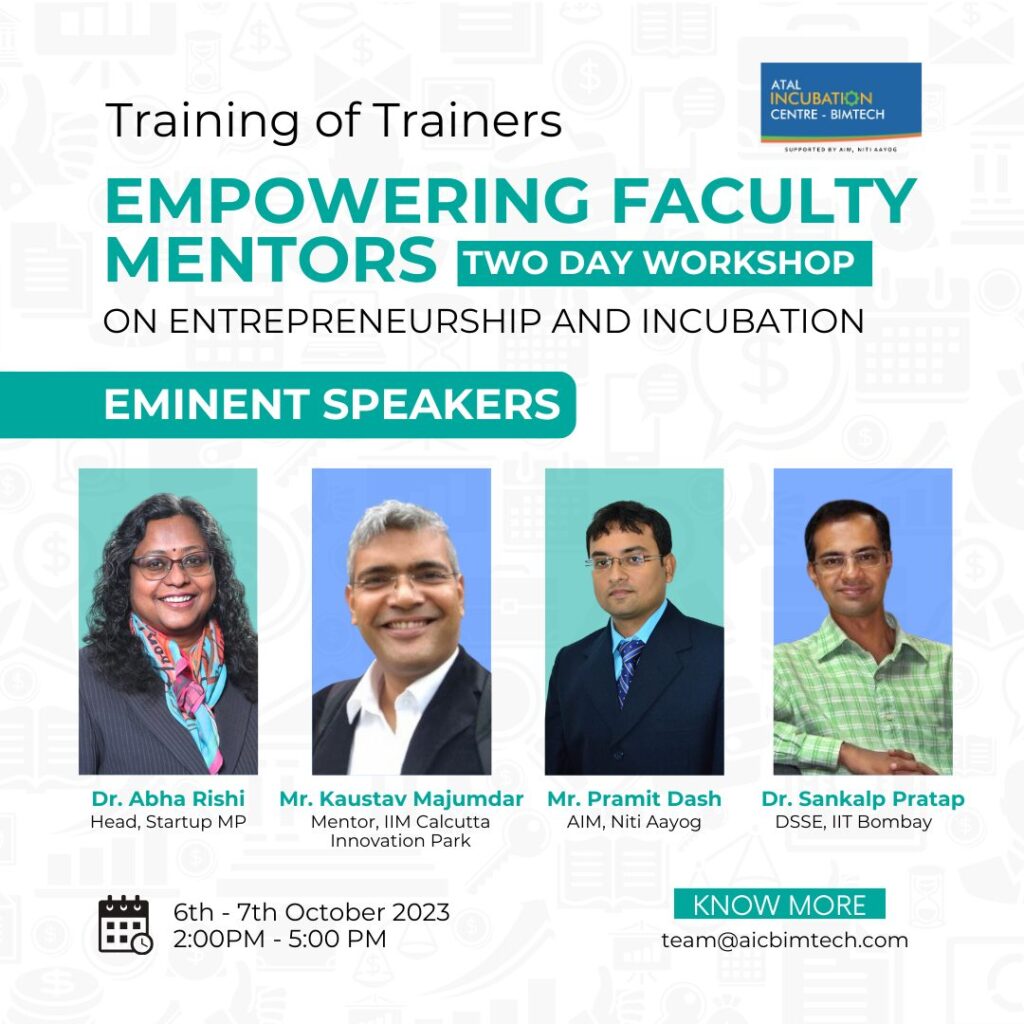 Day 1 of the workshop set the stage with a comprehensive overview of the Indian startup ecosystem presented by Mr. Pramit Dash, Program Director at Atal Innovation Mission where he discussed his work leading the Atal Innovation Mission with the government's backing and developing the incubation sector's capabilities. He has revealed certain statistics that demonstrate the meteoric rise of India's startup scene; praising government initiatives and efforts to facilitate business.
Following this, Dr. Sankalp Pratap, a distinguished professor at DSSE, IIT Bombay, engaged participants in a deep exploration of entrepreneurship. These sessions encompassed a wide spectrum of topics, including defining entrepreneurship, research opportunities for faculties, mentoring prospects, and career progression pathways. He also delved into developing an ideal proof of concept, business models, and numerous forms of prototypes that can be utilised to evaluate student entrepreneurs by faculties. The participants left the workshop armed with both knowledge and practical tools to guide their students into the dynamic world of entrepreneurship.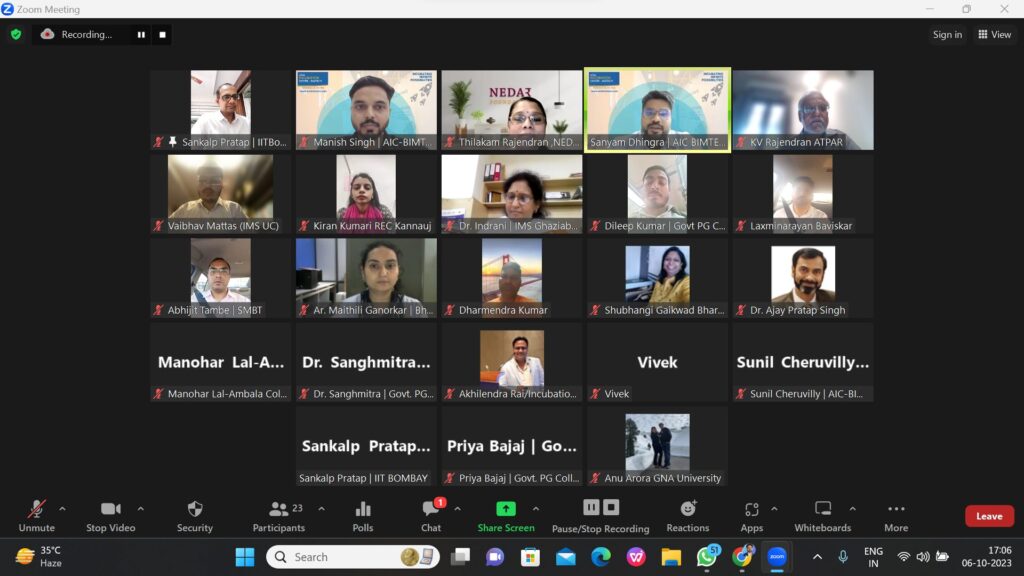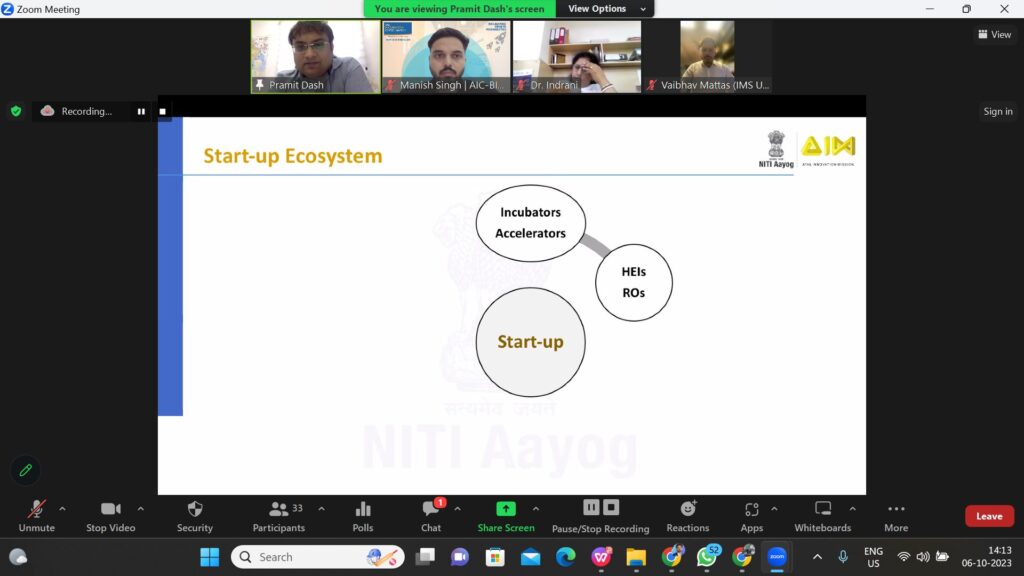 Day 2 continued the journey of enlightenment with Mr. Kaustuv Majumdar, a mentor from IIM Calcutta Innovation Park, sharing insights on establishing Institution Innovation Councils (IIC) and innovation is tool to practice, enables evaluating students' business ideas. He underlined the significance of value-driven companies that make money rather than merely promising to do so. He suggested that professors foster an environment on campus that encourages "Do it yourself" (DIY) community and a mindset that is open to new ways of thinking.
Dr. Abha Rishi, Head MP Startup & Trustee AIC-BIMTECH, a seasoned expert in the field, then unveiled the secrets to seamlessly integrating entrepreneurship and incubation within campus settings, along with leveraging government grants and schemes. She also talked about importance of creating e-cell and concluded the workshop with her years of experience in field and motivating faculty mentors to take their first step. Following questions, the speaker discussed the necessity of obtaining CSR funding and how to use them for capacity building. The programme concluded with the concept of incubator sustainability and long-term value creation for the institution.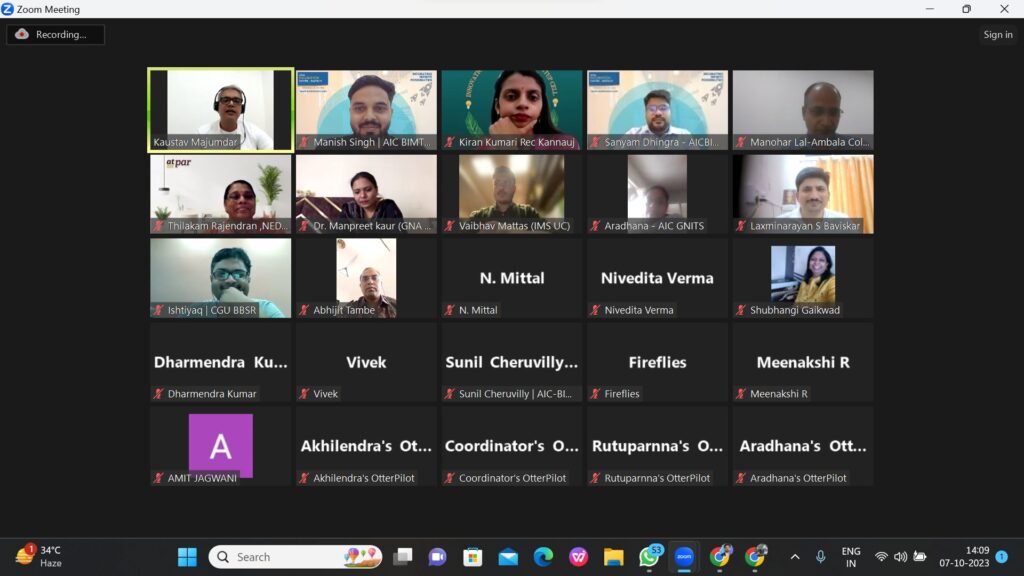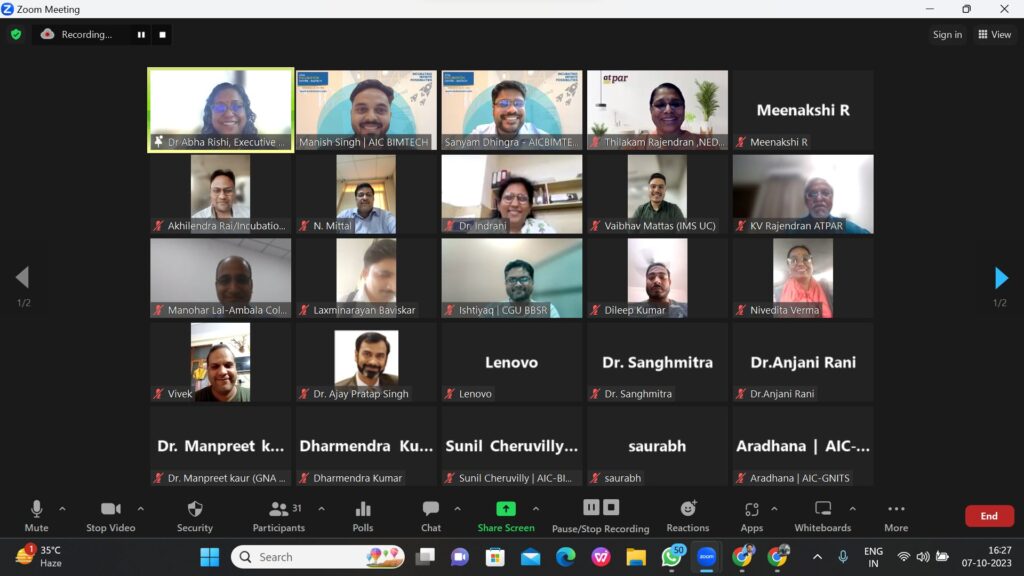 The workshop garnered accolades, with participants praising the invaluable knowledge and practical insights they acquired. AIC-BIMTECH's unwavering commitment to nurturing a thriving entrepreneurial ecosystem in India's educational institutions shone through in this impactful workshop. As faculty mentors return to their respective campuses, they do so armed with the knowledge and inspiration to lead in a new era of entrepreneurship and innovation ecosystem.
Contact us at team@aicbimtech.com  or +91 83839 97616 if we may be of assistance in hosting a similar workshop on your campuses in the future.