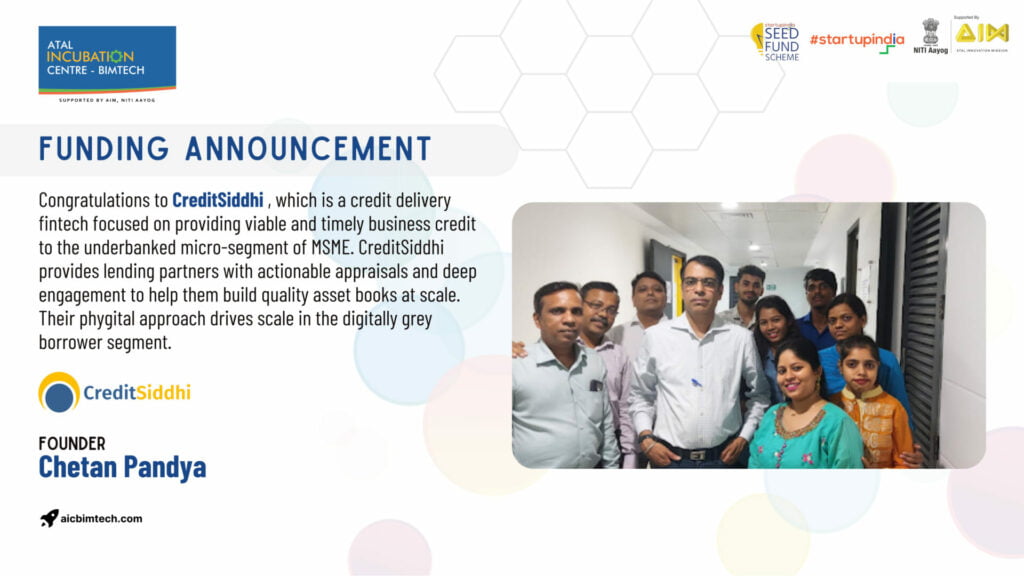 Atal Incubation Centre- BIMTECH is delighted to announce that we have selected CreditSiddhi for #funding under Startup India Seed Fund Scheme (#SISFS).
StartupFundingCounter11/2022/AICBIMTECH
They are a credit delivery fintech focused on viable & in-time business credit for under-banked micro-segment of MSME (Annual credit requirement: ₹ 12 trillion*). They deliver actionable appraisals and deep engagement for our lending partners to build quality asset books at scale. Their Physical approach drives scale in the digitally grey borrower segment.
AIC-BIMTECH team wishes Mr. Chetan Pandya and the entire CreditSiddhi team the best of luck in their future endeavors and looks forward to seeing them make a name for themselves in the fintech sector.
Read more and visit CreditSiddhi at –  https://aicbimtech.com/portfolio/creditsiddhi/