Ash-To-Cash, AIC-BIMTECH incubated Startup Energinee received the Young changemaker award from Finance Minister Nirmala Sitharaman.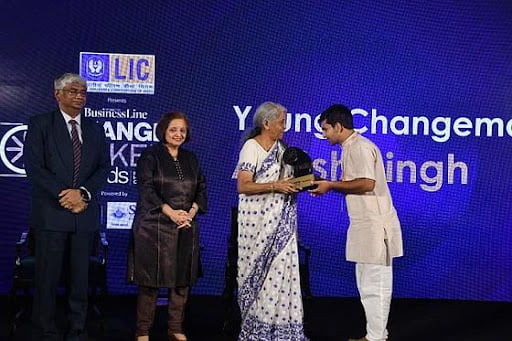 The ash-to-cash entrepreneur: Akash Singh has bagged the Young Changemaker Award for his new start-up Energinee Innovations which is into making statues, figurines, and artifacts from waste, particularly from temple ash. 
The awards function was a culmination of efforts that spanned almost six months. It all started with call for nominations on March 31. More than 600 nominations were received during the two-month period that the nomination window was kept open. The nominations were then screened and evaluated by BusinessLine along with knowledge partners — Deloitte and Ashoka. The shortlisted nominations were then independently validated by Niiti Consulting
This 22-year-old's social impact start-up, Energinee Innovations, trains prisoners and undertrials to transform temple waste into eco-friendly, upcycled products such as sculptures and handicrafts. The initiative helped over 30 individuals to find jobs after their release from custody.
Source  Link(s): TheHinduBusinessLine