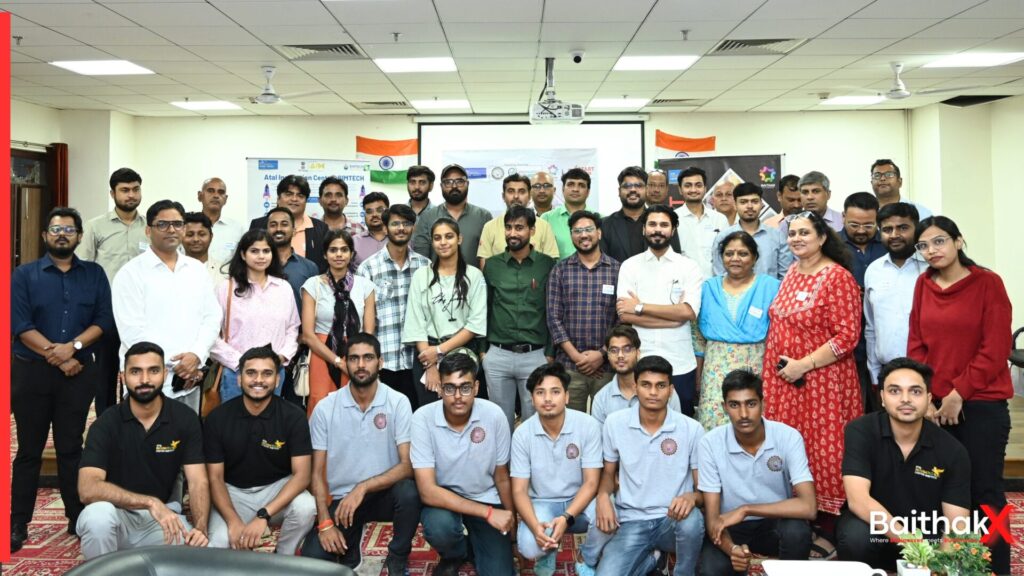 BaithakX Lucknow Chapter 2023: Founder Meet
In a symphony of innovation and entrepreneurship, AIC-BIMTECH organized another chapter of Biathak in Lucknow on 28th of October, 2023,  in partnership with the Innovation Hub of Dr. APJ Abdul Kalam Technical University (AKTU), orchestrated a transformative event known as BaithakX. The BaithakX initiative is a unique platform where businesses meet businesses, and where startups, mentors, investors, and other key stakeholders converge to build networks, exchange ideas, and catalyze the entrepreneurial ecosystem. The Lucknow chapter of BaithakX saw over 40 startups unite to harness the power of collaboration and innovation.
The event, held at the heart of the city, brought together a diverse and vibrant group of entrepreneurs, each driven by a vision to create, innovate, and transform the business landscape. The chief guest for this illustrious occasion was Shri Ravi Ranjan, a distinguished IAS officer and the Managing Director of UPLC. Shri Ranjan graced the event with his invaluable insights and unwavering support on behalf of the Uttar Pradesh Government, escalating grants and allowances to propel entrepreneurial initiatives. His words resonated with the budding entrepreneurs as he encouraged them to chart a course towards success, all while fostering a robust and dynamic support system in the state.
Getting unwavering support form Hon'ble Vice Chancellor of AKTU, Prof. J.P Pandey, and the Head of the Innovation Hub, Mr. Mahip Singh & team, sharing their journey and relentless commitment to cultivating an innovation ecosystem across the entire state. In collaboration with StartinUP and the Government of Uttar Pradesh, the Innovation Hub is tirelessly working towards creating an environment where innovation thrives. His experiences and the progress of the Innovation Hub serve as an inspiration to all who are dedicated to shaping the future of business in the state.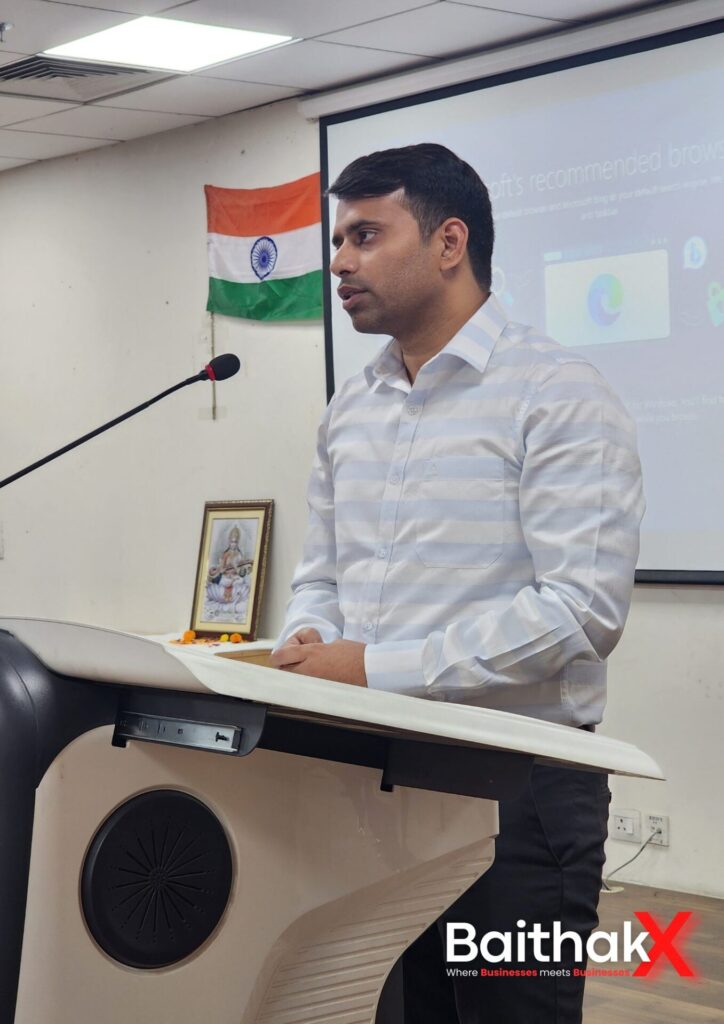 Throughout the event, the AIC-BIMTECH team facilitated fruitful interactions and shared experiences, allowing startup founders to open up about the challenges they face and to showcase their innovative ideas. The atmosphere was charged with the spirit of collaboration and the desire to learn from one another. Entrepreneurs found a common ground, transcending barriers and differences to create a network of support and camaraderie.
The heart of such events lies in networking and collaboration, as entrepreneurs exchanged business cards and contact information. The synergy between startups and established businesses is the driving force behind the growth of the entrepreneurial ecosystem. Sharing ideas, best practices, and resources ensures that these enterprises continue to thrive and, collectively, contribute to the economic progress of the region. We're also pleased to report that the event was covered by numerous media channels, each of which successfully communicated its message to prospective readers.

In the spirit of BaithakX, we eagerly anticipate the positive transformations that will unfold in the entrepreneurial landscape of Lucknow and the entire state, as innovative minds continue to come together, collaborate, and create a brighter future for business and industry. We strive to conduct more such Meet-up in the future.
Meanwhile, if you want to connect with us, write us on team@aicbimtech.com