Audi environmental foundation selected AIC-BIMTECH's portfolio startup UNEAKO for the One Young World Summit in Manchester, happening from 5th to 8th September 2022
Audi talents take their ideas to One Young World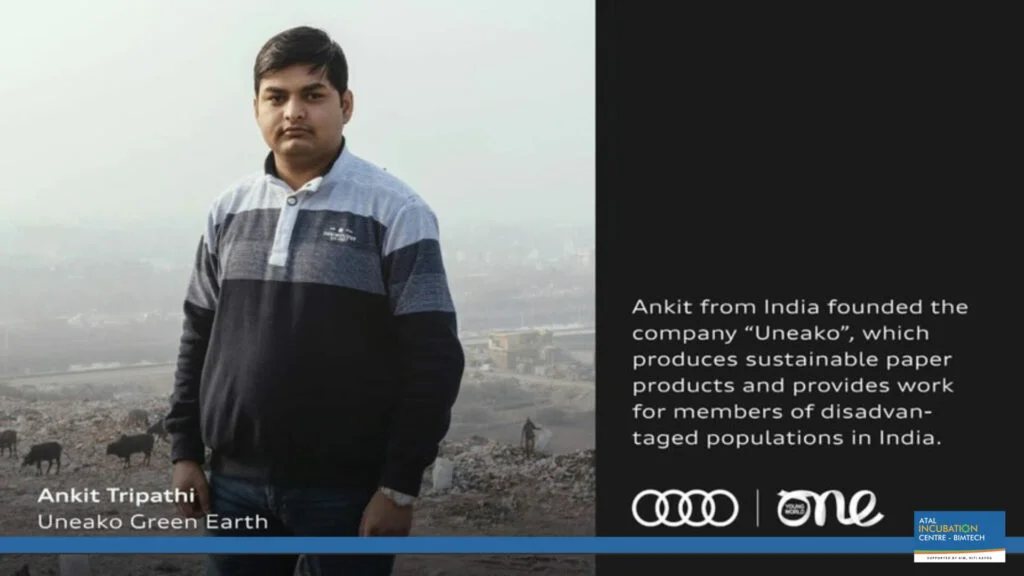 Audi supports young minds and fresh ideas: 29 employees from Audi and Bentley as well as scholarship recipients from the Audi Environmental Foundation will get the chance to advance their ideas for a better world at the One Young World Summit in Manchester from 5 to 8 September 2022. Out of 3000 projects from all over the world 19 projects were selected among then UNEAKO being one.
Looking forward, thinking ahead: The One Young World Summit in Manchester gives young visionaries and their ideas a stage. This year's conference will focus on conflict prevention, gender justice, ocean ecosystems, ethical leadership, and health. More than 2,000 participants from over 190 countries are expected to attend, among them high-ranking guests from the world of politics and science, such as former UN Secretary-General Ban Ki-moon and WHO Director-General Tedros Adhanom Ghebreyesus.
Audi will also be represented. AUDI AG is sending ten employees to North West England. An additional 15 scholarship holders will be sent by the Audi Environmental Foundation. Bentley will also be participating this year as part of the Premium Brand Group. Four delegates from the famous British manufacturer will be attending. All are committed to sustainability, resource conservation, and equality. With their ideas, they want to develop solutions for society's most pressing problems.